JULY 11th CAT PHOTO DAY CELEBRATION!
July 11th is National Cat PHOTO Day and we are celebrating BIG!
The amazing DeeDee Grant of Captured Moments by DeeDee  https://www.capturedmomentsbydeedee.com/ 
will be joining us to take your cats' photos 10-2!! (her work with her beautiful Chester & Gato is featured on our page!)
BOOK YOUR TIME SLOT DIRECTLY WITH DEEDEE, use the link above.
$25 from each photo sessions will be donated to our friends at
PALS No-Kill Cat Shelter in Winthrop Maine https://sites.google.com/site/palscatshelter//home
Learn More about Membership and their NEW Veterinary Service on July 11th!
Their full-time Vet, the PAWESOME Dr. Miller needs some vital equipment! Help us Help them Help Kitties!
In Loving Memory of Zeus,
our goal is to be able to purchase a JorVet Smart Oxygen™ Complete Kit
This unit would have made his last days a bit more comfortable.
PALS receives cats in all stages of health, some needing a lot of veterinary care and TLC before they are ready to find their forever homes PLUS they give loving care to all of their cats that are not adopted until they take their last breath.
Let's help them make those last moments more comfortable!
PLAN YOUR ROAD TRIP TODAY!
From 9:30-2:30  our shop will be open for shopping and in loving memory of our ANGEL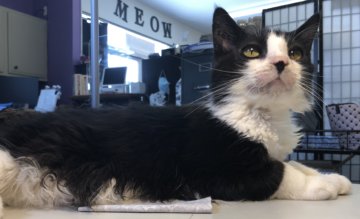 30% of ALL Sales
will also be donated to PALS!  One FREE Sample per family plus some raffles and a special surprise!
MEOWZA you don't want to miss it!
Want to help out today?
Check out their wish lists for immediate needs for the over 180 adult cats and kittens they are currently caring for!